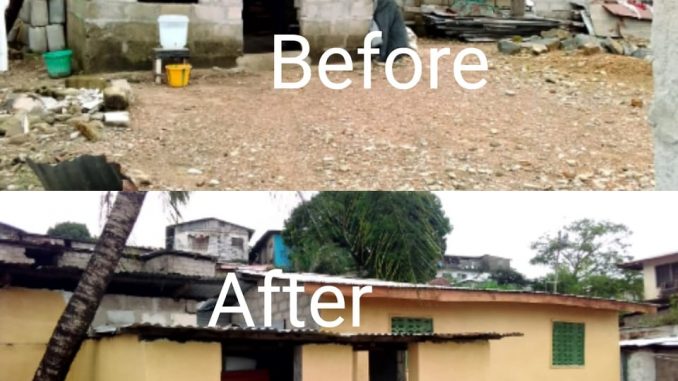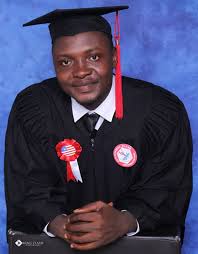 No one cared much about elderly citizen Elizabeth Norneh until her photo made headlines across Liberia during the 2017 presidential and general elections. Kneeling and kissing a billboard photograph of then-senator and soccer icon George Oppong Manneh Weah, Madam Norneh perfectly summed up the essence of every ordinary Liberian's hope – that Mr. Weah and his Coalition for Democratic Change party would lift their lives from poverty to prosperity once he got elected to power. Three years after the elections, Madam Norneh and her family still lived destitute lives. Until young Liberian activist Martin K.N. Kollie walked into their lives and impacted them.
Today, elderly citizen Elizabeth Norneh, who also goes by the nickname "CDC Zayquay" (a popular battle cry that political party supporters utter during political campaign rallies), just moved into a spanking refurbished house completed by Mr. Martin K.N. Kollie and dedicated Wednesday during a formal program.
Speaking on behalf of the Voices in Exile (VeX) and its founder Martin K.N. Kollie, Mr. Varfee J.M. Dukuly formally turned over the refurbished house, and a small business grant of LD20,000 plus six bags of rice to Madam Norneh.
"This has nothing to do with politics. Out of compassion, patriotism, and love for humanity, I chose to inspire someone and add dignity to her life. I do not have much. I am not rich. But my pastoral parents taught me to always share my little and identify with those in need," Mr. Kollie said.

Narrating further, activist Kollie disclosed that after he recently obtained a small contract, and after writing a concept paper for an organization and editing a book, he got the financial wherewithal to undertake a project that would change someone's life in a meaningful way.
"Like always, I was inspired to help someone. I didn't like Ma Elizabeth Norneh's living environment. It was really appalling. So I chose to do something about it. I chose to find solution," Kollie stated.

He said, although Ma Norneh has been and remains a loyal partisan of CDC since 2004, what drove and inspired him about her is her steadfast loyalty and consistency.
"I have been there. I have been through it and I know what it takes. It is a life between poverty and misery. It is a life below degradation. It is a choiceless, powerless, and hopeless life. As an activist, it is not just enough for me to only talk and write about what our people endure in those slum communities on a daily basis. It is not enough for me to only advocate for them and defend their rights. It is not enough for me to only criticize government and public officials for failing to protect public interest. It is not enough for me to only expose public graft (corruption) and blow whistle against bad governance. It is my responsibility to find concrete solution as well," Mr. Kollie expounded further.

The VeX founder said while he continues to honestly criticize in pursuit of a New Liberia for all, he should always, at all times, form a part of 'The Solution Equation'.
"So today, I am very humbled to inspire hope and add value to humanity. There is no better life for me than reaching out to help those in need. Therefore, I am donating or turning over these items to Ma Norneh: a refurbished home done both inside and outside including plastering, ceiling around, widows, painting, etc.," Kollie stated.
He also provided the elderly citizen with a small business grant of LD20,000 with the hope that Madam Elizabeth Norneh can do small business in her yard to generate income for herself. "At least this will allow her not to go at CDC HQ every day in search of survival. Our people deserve a life beyond begging and poverty," he said, adding that the donation also included six bags of rice to address her food need for the next six months.

"I wish to always use my pen to inspire and impact society far more than this. I encourage Ma Norneh to remain loyal or faithful to her party (CDC), conscience, and belief. It is her right. And I do admire her consistency. I appreciate my hard working and honest team in Liberia. My sincere gratitude to Varfee J.M. Dukuly and Francis Mario Boayue for implementing this project in two weeks. Glory be to God. Liberia shall rise one day, and soon too. Prosperity, equality, and justice for every Liberian shall overflow," Mr. Kollie said.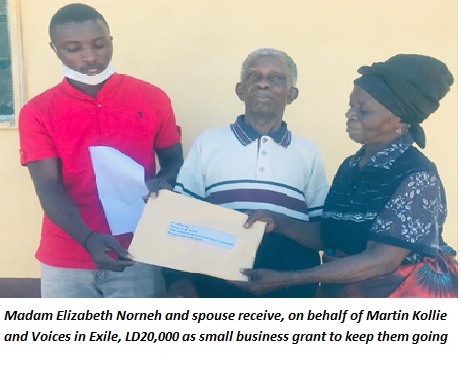 Receiving the items, Madam Norneh, appearing exceedingly happy said, "this boy, I don't know him. I don't know his pa, I don't know his ma. God passed through him. I don't have anything to say. The only thing I have to say is, I tell God thank you. I pray God will give him long life, because I am surprised by what he (Kollie) did. I wasn't expecting it."
Further beseeching God's bountiful blessings on Mr. Kollie, Madam Norneh invoked the wrath of the Almighty upon anyone who attempts to harm Kollie wherever he is.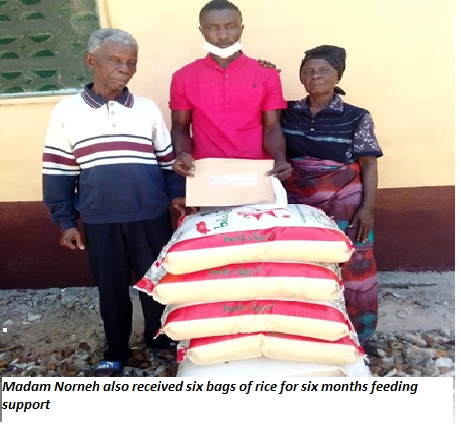 CDC Propaganda Brigade Reacts
Minutes following the release on social media of the dedication program by media outfit KMTV, the governing CDC's propaganda team got hold of a visibly shaken Madam Elizabeth Norneh.
"I saw some kind of report on Facebook today. Somebody said they built a house for you," the interviewer asked Madam Norneh. When she denied that no one built her house, the interviewer said he has seen photo of Madam Norneh standing in front of the particular house, so why should she deny. But Madam Norneh kept insisting that no one built her house. Then the interviewer followed up with a leading question: "It looks like this man has spoiled you name, what are you going to do?".
After several attempts by the CDC propaganda brigade to coerce the obviously shaken Madam Elizabeth Norneh into denouncing Martin Kollie and his humanitarian assistance to her, the elderly citizen ended up saying she had never met Martin Kollie, does not know him, and never spoke with him. She ended up saying that this person called Martin only wants to damage her relationship with President Weah.
"I will sue this person Kollie," Madam Norneh retorted, after continuous prodding from the interviewer.
Citizens React to CDC propaganda "hogwash"
In angry reaction to the CDC propaganda video posted on social media, many citizens openly vented their anger over attempts by the ruling party to coerce an elderly destitute lady for receiving assistance from an opposition activist.
Challenging the interviewer to prove where Martin Kollie ever said he built a house for Madam Norneh, the public raised issues over the ruling party's attempt to cover up for the failure of their government in providing for the general welfare of Liberians, and especially for someone who worships their standard bearer, President George Weah. An irate resident of Caldwell in fact termed the propaganda attempt as "hogwash from a shameless group of people".
When this outlet contacted Mr. Martin Kollie about his reaction to the CDC attempt to paint him as a liar, he said he helped Madam Norneh because his heart pushed him to do so. Martin said he would continue his goodwill to other Liberians that are in need just as he did for CDC Zayquay.
"I am not here to make noise with them. I did it out of goodwill. They are so embarrassed. They can carry on," an apparently bemused Kollie stated.