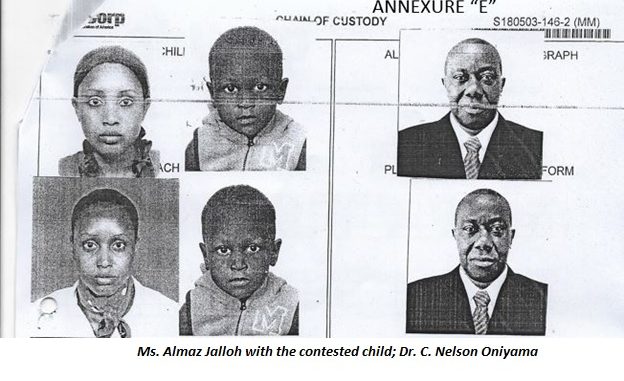 Dr. C. Nelson Oniyame is owner of Liberia's Beer Factory, producers of the ubiquitously refreshing Club Beer. Besides the Beer Factory, Oniyama owns chains of lucrative businesses that continue to pour monies into the Liberian economy and into his pockets.
But being a topnotch businessman also means Oniyama must be very guided in his dealings, outside and within business circles.
Businessman and medical practitioner Oniyama was recently commissioned as the Government of Ukraine official rep to Liberia. Immediately after his commissioning, Oniyama, a married man, has now been hit by a paternity and rape assault charge from his former lover.
Almaz Jalloh is a Liberian resident in Belgium. Ms. Jalloh recently wrote the Government of Liberia through the Ministry of Gender that her ex-lover Dr. Oniyama had raped her when she was 17 years old, and had a child by her.
In that emailed letter to the Government of Liberia, Ms. Jalloh said, in 2013 Dr. Oniyama asked her to be his mistress, but she reneged as she had a boyfriend who stayed in Europe. "He consented and said he respects my decision but we could be friends. I however accepted with serious apprehension," Ms. Jalloh claimed.
"On a fateful date Dr. Oniyama asked me out at his car rental office (Avis) adjacent the LEC (Bushrod Island) in Liberia, due to its public location, I accepted not knowing he had a plan.
The professed decent man now an Ambassador of a Foreign Government (Ukraine) drugged my drink, put me to uncontrollable sleep and raped me, such despicable act indeed! Gosh! #tears
When I woke I didn't notice what had happened, went home and few weeks later began seeing signs of pregnancy then I first went to the hospital and was told I was pregnant. I was outraged and went to Dr. Oniyama and asked what had he done to me? He consented he had something to do with me but used condom. He also went on to say he is impotent and was not possible to even have sex with me. His stories did not corroborate so I decided to carry the baby, have a DNA when I give birth and use the situation to pursue justice for bastards like his kind who will use wealth and power to mistreat people.
Dr. Nelson Oniyama asked me to abort the pregnancy but I refused and used one Henry Moore a police officer to continuously intimidate me that even if I took up the issue with the International Police abroad nothing would come out of it as the matter happened in Liberia. Today Moore is Security Consultant in Nelson's company.
When I had the kid I asked for the DNA, one was done in Liberia and another done in Nigeria, all tampered with and compromised by the filthy rich good for nothing Oniyama.
When I moved to Europe I then did a verification of all the tests with kits sent from labs in Europe where previous tests were sent, Alpha Biolab Clinic that ran the DNA verification in Belgium told me all the tests initially done were tampered with and that Oniyama had lied. The DNA markers of all the test done where all different from the child and that all human has one DNA and not two as shown by the results they sent. When I raised the issue in 2018, Nelson said it was a mistake done by the lab but my question was why didn't he see the mistake but rather denied me of justice 4years ago?
Madam Minister I pray Dr. Oniyama is brought to justice for all these physiological situations he had put me through all these years and his consistent comments that all government officials are in his pocket is worrisome.
I will be attaching the DNA results as done by him and the one I personally did to authenticate what was sent me and will be open for questions where possible. The DNA done in Europe proved 99.99% positive. While the DNA remains an issue the most cardinal issue is the rape and humiliation Oniyama put me through.
The government of Liberia must know that Dr. C Nelson Oniyama is a rapist and has no dignity or is he fit to be consulate of an Embassy in our country or even run all these corporations, he deserves being behind bars and exposed and made to respect Liberian officials.
I go through pain everyday looking at my beautiful 4 years old daughter who for a significant portion of her life we been fighting for justice but everywhere we turn, the media, the government and the medical institutions and legal have all failed us. People mostly care for themselves than the lives of the innocent. Once Oniyama gets them bribed they are done with my case, that's why I am doing this open letter.
Since Ms. Jalloh's opening up, the media have been bombarding Dr. Oniyama regarding his role in the alleged rape/paternity issue.
In reaction, Dr. Oniyama, through his legal representation, has challenged the paternity suit, terming it as bogus, and even suggesting that he is willing to submit to another paternity test to prove his innocence.
According to documents in possession of Insight, Dr. Oniyama and Ms. Jalloh had undergone series of paternity tests, and only one of the tests proved positive.
Morality vs Legality
Dr. Oniyama, according to very reliable sources, is a married man, up to the period of his infidelities with Ms. Jalloh.
"Why would a married man have sex unprotected with a young woman and support the offspring of that unholy liaison, yet claim he's innocent of any wrong doing?" wonders Ms. Marsha Itoka.
In any case, it remains to be seen whether or not Ms. Jalloh will return to Liberia any time soon to submit to another DNA test along with her son.