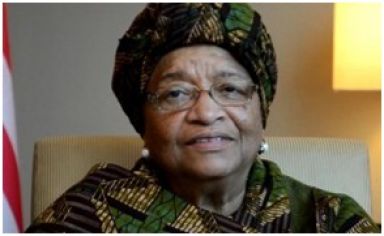 A Conversation with President Ellen Johnson Sirleaf
In her second and final six-year term as Liberia's president, Ellen Johnson Sirleaf has continued a heavy schedule of international travel, despite seemingly intractable challenges at home. It is an uneasy balance, she acknowledges – courting international investment and aid while struggling with a fractious democracy still scarred by a war that killed hundreds of thousands of people, displaced two-thirds of the population, and destroyed nearly all the country's infrastructure. After attending the Africa-Arab Summit in Kuwait, Johnson Sirleaf visited Dubai, where she sat down with AllAfrica's Reed Kramer and Tami Hultman to discuss her priorities and principles.
Madam President, what do ties in this region mean to Liberia?
In Kuwait there was an opportunity to meet with leaders of the Arab world, who are increasingly good partners to Liberia. The same thing continues in Dubai, where conversation is ongoing between the Dubai Port Authority and our National Port Authority, whose managing director [Matilda Parker] is on the mission. We were honored to meet with the Emir and discuss possible collaboration between Dubai and Liberia in several areas, and with bankers – in terms of financial support of investment and development. So this trip is meant to promote more cooperation.
You've made job creation a top priority, so why does unemployment remain such a challenge?
The private sector and the substantial amount of direct foreign investment – over $16 billion that we mobilized with an objective that they turn into exports, into jobs – have been constrained by lack of infrastructure. Full operation in the agriculture sector – the most labor intensive – the mining sector and the forestry sector, all have experienced difficulties.
Our agenda for transformation, which is the first phase of the long-term Vision 2030, focuses on infrastructure – making sure our roads, our ports, our power, are available – because these are the major constraints for concessionaires that have been granted agreements [to use land for economic purposes or to extract natural resources] really, really moving at the rate that we anticipated to create jobs.
Have the investments further strained your infrastructure, because they're not, in most cases, directly infrastructure-focused. Can the holders of those valuable concessions do more?
As we speak, there are ongoing meetings by the minister of finance with all the concessionaires that have been granted agreements. They are the mainstay of our economy. We are resolving land issues, resolving financial issues for many small and medium-sized businesses, which are job creators. We are very focused on this agenda for transformation this five years, to ensure that Liberia achieves those goals that we have set forth.
In concrete terms, what does that focus mean?
We have done a lot on developing infrastructure. Through bilateral and multilateral arrangements – World Bank, African Development Bank, development funds like the Kuwait Fund, the European Commission, Germany, Norway and all of those – we've mobilized substantial development in the area of power, for example. Plans are now being executed for the restoration of our hydro [water-generated electricity]. With the support of Norway, Japan, World Bank, Kuwait, we are going to be having an additional 38 megawatts of power that will serve as an interim until the hydro comes on stream. So we've made a lot of progress, but it's not going to be enough.
We have four major mining companies that have investment in our starting operations. They're going to require a significant amount of power. We have two major agriculture concessions – from Malaysia and Indonesia – that are now well advanced in their planting. They're going to require power, because in all of these we're looking for value-added. The road sector is the same thing. We are committed to build all the primary roads and connect them to the different [county] capital cities. We've got a long way to go but are well underway toward the completion of some of those.
Yet I can tell you, our own estimates show that to meet all of our infrastructure needs in the next five years will take $3 billion, which, of course, Liberia doesn't have out of its own resources. So we continue to work with our partners to mobilize as much of that as we can to get our ports functioning, our power functioning, roads built.Until we do that, we'll not add value to our very vast natural resources where the jobs come from.
You need investment. But community and environmental groups have complained that international companies are pushing people off their land. What about that?
We have a new land policy. Legislation on land reform is now being prepared by the Land Commission which was established in 2009. They've identified the different categories of land; they're going to ensure that communities have certain rights and access to land – that they get title for land; they're going to participate in those cases where the government is going to negotiate land with external groups such as concessionaires. And so progress has been made.
Taking the Pain to Right a Wrong
In our forestry sector, we've had problems because people have bypassed the laws. Our forestry reform law requires 'conservation, commercialization, and community protection'. The laws are there, but many times in the enforcement of those laws, we falter – whether it is because of capacity or people deliberately trying to bypass the laws. That's what we've experienced with these 'private-use permits' in the forestry sector. Because of that, we put a moratorium on the operations of forestry. It's cost us a lot of money because forestry is a major source of our budgetary revenue. But we felt we had to take the pain because we had to correct a wrong. And so the moratorium is still in place. Those who were running our forestry department authority are now before the justice minister for prosecution! So we are taking steps and we feel satisfied.
You know, 43 per cent of Liberia's land mass is forestry. Those are one of our major assets. Twenty-seven per cent of our landmass is agriculture – and only 4.3 per cent being cultivated today. So if you look at that, you can say there is a lot of land. The big thing is to make sure that in granting the land there is full participation of the population and the communities so they know what benefits they get; so they know what the responsibilities are; so they become the ones that get the jobs and the social benefits that come from concessions.
What does it mean to be part of the Power Africa initiative announced by President Barak Obama in June?
We are pleased that Liberia was included. This has to be an ongoing operation with a U.S. company. That we don't have, but we have good prospects and are talking to one or two American companies that could be working with us to start some operations that might enable us to qualify.
You also hope to get development assistance from the U.S. Millennium Challenge Corporation (MCC), which is based on performance and progress in key indicators of governance. In the latest MCC scorecard, Liberia just missed passing the required ten indicators out of 20 developmental targets to be "compact eligible". What does that mean?
It means, for us, more determination, to make sure that we pass all the indicators. Last year, in 2012, we passed 10 indicators – all of them with an upward trend. This year, 2013, we passed nine. That's because we did not pass the natural resource sector indicator, as we did last year. We have found that the reason for that is that last year they had included in the report areas of our forests reserves designated for conservation – designated, but not formally gazetted. This year, they discovered the error [making it appear that progress in protecting natural resources had been reversed]. But what is important to us is that, again, in all the indicators, there are upward trends. And I'm very pleased that Liberia has consistently passed a corruption indicator, because without that your entire program could be discontinued.
Are you satisfied with what you've been able to accomplish against corruption during seven years in office?
I'm satisfied that we've made progress. We've made correction a topical issue. We've moved it from under the table and under the rug to where it becomes an issue that everyone discusses and where disclosure takes place regularly. We have put in place institutions of integrity, such as an extractive transparency initiative and new public procurement laws. The freedom of information act, the whistle blower's act, promote an open society, where everybody can report. On a sustained basis, corruption is being combated.
We still have a problem with our judicial system – the punishment part of tackling corruption. We have dismissed people or fired people and sent people for prosecution, but the process is too slow. We need a fast action court that will render judgment quickly and set an example as a deterrent. We're still working on that. But Transparency International's latest report and the MCC indicator demonstrate very clearly that Liberia has made progress. It's difficult, because it's been entrenched for so long in the society, but we've come a long way in addressing it.
Are there limits to your ability, as an executive, to handle corruption? Like the United States, you have three branches of government.
We do have three branches. But so far we've had support getting laws; our biggest thing is implementing them! We don't have executive fiat, in the sense that we cannot take action fully in certain cases. If we want to have prosecution, obviously we have to go through the court system, which is independent from us. But we can try to make our cases strong and our prosecution forceful enough that we make a convincing case. We have a new chief justice who has been working with the judges and trying to address improprieties within the judiciary itself. Our Constitution protects our judges, so even if they have missteps or act improperly, there's nothing we can do without impeachment – and that can be a long, difficult process. But there is more collaboration among the three branches to try to tackle some of these long-standing issues that have constrained us from achieving our development goals.
Since Liberia is a potential oil producer, what steps are you taking to prepare for that as you await the results of the exploration now underway?
Well in the first instance, the oil exploration started before this administration. There have been 10 blocks granted to companies before this administration came in. But what we have done is to look at those blocks and to try to bring in the major players. That's how we were able to get Chevron to buy into several of the blocks and to get Exxon Mobil to buy in, because we wanted to make sure that we had those that had strict integrity laws and that they had financial and technical capacities to be able to explore. Anadarko is another company.
But now we're taking another step. We're doing petroleum sector reform. There'll be a new petroleum law that will set the guidelines for being able to give out oil exploration rights. There will be two institutions – one that will manage state assets and another one that will have the rights to grant concessions. These reforms are now in the process. They went before our legislature before they closed. The Senate passed it, but they did not complete their conference with the House. When our legislature returns in January we hope that reform will be concluded and we'll have the acts ratified. And then after that, we'll open up. And at the same time, those that had blocks, like the companies I've mentioned, have indicated that they will be doing drilling early next year under the new reform law. That law will ensure not only that we use the resources of oil for specific areas that will lead to sustained development – such as infrastructure – but also preserve some of the benefits from oil for future generations. To do that, we looked at the practices in many other countries. So we're very happy.
But you know, oil brings clamor! I mean, as soon as people hear "oil", everybody gets all excited and their own plans for how they can use this oil. It leads to tension in society and to great expectations. I keep trying to cool people down. For one thing, we've got to get the reform through to make sure that we do it right. Secondly, when the first barrel of oil gets exported – six, seven years from now – it will be a new administration. So, my job is to protect those future generations from all successive administrations after my time! That's my commitment to the Liberian people, and I'm going to do my utmost to keep that commitment.
Does that involve the creation of a sovereign wealth fund?
Yes, it does. When I talk about protecting future generations, it does involve setting a certain percentages of oil proceeds into a particular fund that cannot be used except for the future.
We've talked about economic indicators. What about social progress that you've been able to record in the last seven years–health and education in particular?
Even in those areas, we've made quite a bit of progress. Our school enrollment has increased, particularly the enrollment of girls. Throughout the country, we've built new schools, renovated schools, built hospitals and clinics. The issue now becomes the paucity of trained people. We're training nurses, we have reactivated our rural teacher training institutes, and they're putting out hundreds of graduates every year, but they are not enough. For the enrollment we have, over 1.2 million kids in school, we don't have enough good qualified teachers, and we don't have enough materials in the schools. So we are grateful that Peace Corps has come back, and they're doing a great job with some of our rural teacher training institutes, but they're not enough. And so it's going to take time. The progress from whence we've come to where we are today is tremendous. But the challenges are still enormous, because we've got a much longer way to go.
This is a principal legacy of years of conflict and war, isn't it? You lost a generation, at least, in terms of education.
Absolutely, there's no doubt about it. The Liberian experience is clearly that it's so easy to destroy but it takes so much longer time to build.
You took office with a strong position on the importance of democracy. What can you say about the challenges, both medium and long term, and the prospects for building sustainable democracy?
Democracy is an important dimension of development promotion and sustained growth and development. The freedoms that are allowed people in a democracy – the freedom of choice, the openness of society – very important, and Liberia is committed to that. I believe that Liberia has one of the most open societies, certainly in Africa, where freedoms are respected. Our experience does suggest sometimes that those who enjoy such freedom do not exercise the level of responsibility that's called for in the exercise of those freedoms and called for by the Constitution. That sometimes bothers us, but we also realize that this comes from many years of deprivation, from the poor level of education, and so we are very tolerant in understanding that. Our commitment will remain. But there are times when those who knowingly violate the rules and disrespect our due processes flagrantly, that they, too, would have to be brought into check. So we keep trying to find a balance where our commitments to freedom, to open society, to democracy remain strong.
You have an active, you might even say noisy, press. Is there a cost?
Yes, there is a cost, because people expect that the press and the journalists who carry information and news in the press would exercise a certain judgment, certain cautions, certain professional attributes in putting forth the news. In countries like our own where the press is to a certain extent commercialized, it leaves questions as to how far can you go. But, I keep saying that we exercise tolerance and we will continue to do so. We think we have to do more to support the press in training, to make them more professional, to help them with their own financial viability so they don't have to resort to the things that lead to bad journalism. That's going to be our challenge.
But it has affected the country, because false accusations, stories in the press that say things about the country that are not true, sensationalizing the news because it makes a story easier to sell, hurt a country. And they've hurt us. It's created in some cases some very bad images of Liberia based upon falsehoods, and that's not fair to the country. But, these are the times, those are the conditions. We have to work with what we've got and try to make the best of it.
On the question of [post-war] reconciliation, you have said the process is still to be completed. Where are you in that, and what still has to be done?
We still have to deal with the lingering Truth and Reconciliation Report. People do not realize how much progress has been made in the implementation of the recommendations of the report. The recommendations were hundreds, many of which we've already done. As far as we're concerned, the most important are the welfare of young people, of children. But we've got to face up and give a report to the public: 'These are what have been recommended; this is the progress that we have made'.
The one area that has to do with a process of contrition and forgiveness as an alternative to war crime [convictions] is an area that we are still lacking. We called it the 'palaver hut'. The Palaver
[discussion]
has been launched, but we need to give it much greater momentum, we need for it to be more understood in the society, we need to get more involvement of everybody That's what we're trying to do.
But Liberia is a very political environment. Even though we all share the same culture, traits, habits, and whatnot, if people were to listen sometimes to the noise in our community and the noise in our society, they will think we really are going at each other. And that's not true. We get into the press, we get on the radio, and we verbally abuse each other. you might say, then in the night you go into the entertainment center and we're all there dancing! That's Liberia for you. You have to see Liberia in its true context.
We need to do more for reconciliation. But one thing I believe Liberia is very, very certain about, no matter where you are in the society: Liberia does not want to go back to war. And of that we are determined and everybody is committed to.
How does international media coverage of Liberia square with what you see as the reality?
I do believe that the international press writing on Liberia lately need to do more to understand where we are, to appreciate the progress, while also understanding the complexities and enormity of the challenges. And you can't do that by just reading things on the Internet. A lot of stuff gets on the Internet, and some of it is just garbage. You can't form your opinions and your perceptions on that basis. So, we ask you to go beyond that, to read reports like that IMF report, like the World Bank report, the African Development Bank report, the Mo [Ibrahim] Index governance report, because these are people that take the time to go beneath what is read in newspapers and said on radio to find the data, to look at the information, and to analyze it to see where we are. And I dare say if you go into all of those professional reports you will be able to understand the true level of significant progress that Liberia has made, coming from a totally devastated 'failed state' in 2006 to today, where we are up there competing with most of the countries in every area of our development indicators. I'll pat myself on the back and say, "Hey, hey, we are doing it!"
And the next four years we hope we can move it to the place where it's clear, completely conclusive, about Liberia's progress, and that it would be irreversible. That will be the real joy for me.