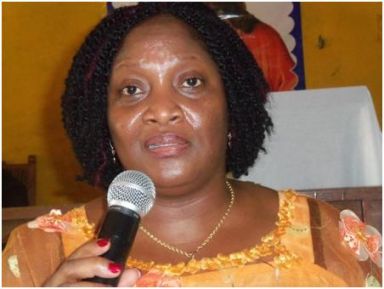 SOURCE: BILL E. DIGGS
Delivering the keynote speech at a National Stakeholders' Dialogue on Rape, Bong County Senator, Jewel Howard Taylor, yesterday urged the government to set up a strong regime to guard against drugs and substance abuse in the country.

She said too often women and girls were raped and such hideous act could be induced in the perpetrators by the abuse of drugs.
"We must put in place a strong regime to reduce substance and drug abuse. Because it is tied into the violence being perpetrated against those who are not able to stand for themselves," she said.
Sen. Taylor lauded the effort of communities to handle rape cases and pursue it up until the relevant authorities can pick it up, but proffered that the fight was not an easy one; thought it can be won.

"This is not an easy battle but it can be done. We have much more work to be done than we've talked about it. We now need to walk the talk," she said while addressing an array of stakeholders in the effort to discourage the act of rape in the county.
She also warned against nuisance dress codes in which some young women proudly parade themselves and introduce their young children to same.
"Two, three and four years old are being dressed as prostitutes. You see them with hairdos for older girls, you see them with makeup on, you see them with lipstick and fingernails polish; all you are telling that child is that 'you are a toy made for the pleasure of the man'," she said.
Sen. Taylor stressed the need for budgetary empowerment to The Ministry of Gender, Social and Children Protection so that they can carry out their work that would protect children from rape and other forms of violence.

Other speakers at the function agreed with Senator Taylor that there was still a lot to be done to address the issue of rape which was said to be used as a means of dehumanizing women.
Madam Edith GongloeWeh made a presentation at the dialogue in which she threw light on the numerous gaps that exist in the effort against rape.
She pointed out police compromising rape cases, people unwilling to come forth when they are raped, lack of rape courts in various counties, slow prosecution of accused rapist and male being the counties' attorneys as gaps.

According to her, except Montserrado which host the lone rape court in the republic, not other county has a specialized rape court other than the circuit courts that are usually overwhelmed.
At least two purported witnesses to rape incidence were given a chance to share their own experience and one of them identified as Georgina Kamara who work to help raped victims said that the best to be done with alleged rapist was to have them killed.
"We are in the advocacy against rape and this is what I will tell you in the community. If you find a rapist in your community you should deal with him before the police come," she said.

Her frustration stemmed from the fact that many at times cases that taken to the police did not amount to anything and the suspect were seen walking scot free in the community again.
However, an office representing the Women and Children Protection of the Liberia National Police said that often it became for them to pursue or forward an alleged rapist to court because the medical reports that should establish evidence against the perpetrator are held by health authority based on patient confidentiality.